← Back
Valentina Stubbs, PhD, LMSW, MPA, MA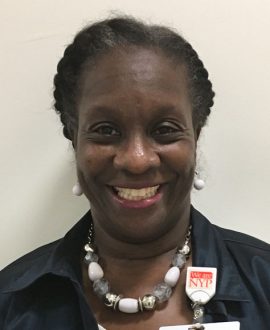 I am the dedicated Social Worker for the Daniel and Jane Och Spine Hospital and have been a part of the NewYork-Presbyterian Hospital (NYP) since 2009. I have 26 years of experience as a Licensed Social Worker in the areas of mental illness, substance abuse, child welfare and medicine, which includes two years of being an Administrator of an Adult Home and Assisted Living Facility. Since my time at NYP, I have been assigned to work with the General/Vascular Surgery, Urology, OB/GYN and Orthopedic Teams. I was honored to become a member of the Spine Team.
As the Social Worker on the team, my role is being the patient advocate and providing social work services such as psychosocial assessments, therapeutic and family interventions, psychosocial education and discharge planning. As a licensed clinician, I provide supportive counseling to patients and their families, guidance, support and inspiration that's crucial to the healing process. I also participate in interdisciplinary effort to evaluate and re-evaluate appropriate clinical interventions.
I am truly honored to work with Dr. Lenke. Beyond his amazing gifts and talents as a surgeon, he is a compassionate, dedicated, intelligent and humbled professional. He truly cares about his patients and his staff. Working with him has been an incredible experience. I have had the opportunity of meeting and working with patients from all over the world. I am extremely grateful to work with Dr Lenke and be a part of such a wonderful team.