← Back
Betsy A | Scoliosis Patient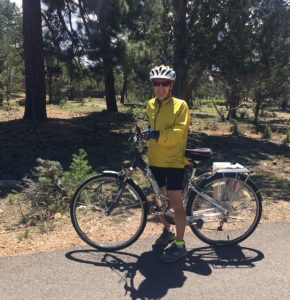 I wore a Milwaukee brace from 3rd grade through senior year of high school, and at the time, it seemed to have worked. But in my mid-20's, I herniated a disc at the apex of my curve, and when I was x-rayed, it revealed that my scoliosis had been progressing for years.
During my 30s and 40s, I saw a number of scoliosis surgeons, and they all said I'd need surgery soon, but I didn't feel ready. I am a hiking/backpacking patrol park ranger, and every surgeon told me that having surgery would likely end my career.
By 50, I was quite curved and less comfortable than I'd always been, though I could still do all of my favorite physical activities except yoga. I have always been very active. I flew across the country to see Dr. Lenke, and he was so sure that I'd be able keep hiking and swimming and biking—and keep my job!—after surgery, I finally felt confident about having surgery.
Knowing Dr. Lenke's reputation and that he was confident that I'd have a full post-surgery life, I wasn't even anxious about the surgery I'd been putting off and dreading for 15 years. I put my energy toward getting extra fit and getting my life organized for this big event.
My surgery went so well! I feel so lucky to have had surgery with Dr. Lenke. I am also incredibly lucky to have retired parents who took wonderful care of me for months, and enough sick leave to take 3 1/2 months off from work. I am 2" taller and look much better.
It was definitely tough in the hospital (take every laxative they give you, and take them at home until you're off the opioids!), but the nurses and physical therapist were great. It was such a relief to have the surgery behind me, and successful, that I felt pretty positive even when I felt physically miserable.
I pushed myself to walk as much as possible the first few months, even though it was hard and often uncomfortable. There was a lot of moaning and groaning, a lot of beeline-ing for my bed after a walk.
At 5 weeks, I started swimming, using a snorkel to protect my neck. It was hard at first, but it got easier. I swam most days because I felt so much better afterwards. But there was a lot of moaning and groaning in the pool, as well. The stationary bike was helpful, too.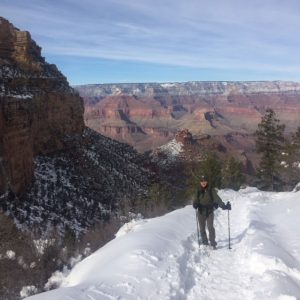 Everything is painful at first, comfortable after a while. Everything is hard at first, easier after a while. At 2 months, I thought, "How will I ever have a normal life if it's this hard to carry a head of cauliflower home from the store?"
But at 3 months, I was carrying full grocery bags in from the car, no problem. At 3 1/2 months, I hiked into the Grand Canyon wearing a 10-pound daypack.
Be patient, and have faith in yourself, your body… and Dr. Lenke and his team. Expect to have some serious pain and to be very uncomfortable until you no longer are. The things I thought were permanent discomforts turned out to be temporary and improved/resolved with time. Walking and swimming can feel like work, like a job, but keep doing them.
It's been 6 months, and I've been working (hiking lots and lots of miles) for almost 3 months now. I just completed a 3-day solo backpacking patrol: I went very light and it was great. I snorkel, and I swim up a storm on my days off. Every month, things get so much easier. At this point, I regularly forget that I even had surgery! In a few months, I plan to resume my volunteer job of walking dogs at the animal shelter: I can hardly wait!
I am so grateful to Dr. Lenke. I am thrilled with my surgery and more thrilled with my recovery with each passing month.