← Back
Kristen Stride, PA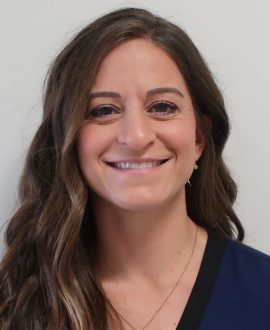 Kristen is one of two Senior Physician Assistants (PAs) for the Och Spine Hospital. Together with Rick Leung, she supervises a team of PAs that are responsible for the care of all patients at the Och Spine Hospital. In addition to their supervisory role for the PA team, they also assist Dr. Lenke in the operating room.
As a whole, the PA team cares for all patients on the spine service from admission to discharge, coordinating a multi-disciplinary team to manage the comprehensive medical care of each individual patient. The PA team is in the hospital 24/7, 365 days a year, ensuring that every patient receives the highest level of consistent care throughout their recovery while in the hospital.
Kristen has been working with Dr. Lenke at the Och Spine Hospital since its inception in 2015 after obtaining her Masters of Physician Assistant studies at the University of Bridgeport in Connecticut. Prior to becoming a PA, she worked for several years in an orthopedic clinic utilizing her undergraduate degree in Sports Medicine. Most recently Kristen became a member of an international disaster response team where she will be able to use her skills and knowledge to provide aid underserved parts of the world.
"Throughout my years in medicine I have never encountered a more caring, dedicated or humble surgeon than Dr. Lenke. Not only is he a brilliant master of his craft, he truly cares about improving the quality of life of his patients while assuring they receive the best possible care. Beginning my career as a PA on Dr. Lenke's team at the Och Spine Hospital has been more rewarding than I could have ever imagined."