Spine Surgery Cases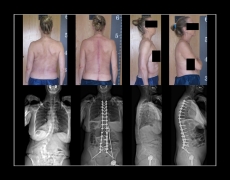 The patient is a 61 year old female who works full time and had seen multiple surgeons regarding her degenerative lumbar scoliosis and imbalance. She had preop back and leg pain.  She could not sit/stand/walk for extended period of time with a maximum of 30-60 minutes.  She tried PT, exercises, ultrasound, manipulation, bracing, anti-inflammatories, injections, and narcotics with only temporary relief.
MORE >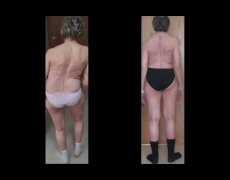 50 y/o Female who was treated with a previous T9-L4 Posterior Instrumentation and Fusion who presented with severe coronal and sagittal plane decompensation and a fixed and rigid postural imbalance. She underwent an extensive posterior spinal reconstruction from T2-Sacrum with an L2 Pedicle Subtraction Osteotomy (PSO) for coronal and sagittal
MORE >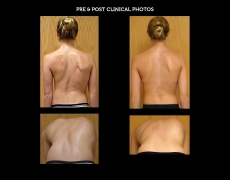 17 y/o Female competitive swimmer with a progressive AIS deformity, Lenke Classification of 3CN, treated with a Selective Thoracic Instrumentation and Fusion from T4-T12. She returned to the pool less than 1 month postop and to competitive swimming within 3 months postop.
MORE >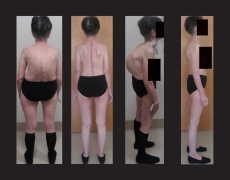 This severe Kyphosis was due to multi-level Osteoporotic Compression Fractures.  She was treated with a Posterior Spinal Instrumentation and Fusion from T2-Sacrum with a T11 VCR.
MORE >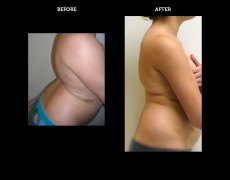 14-year-old female with neurofibromatosis (a genetic disorder that disturbs cell growth in the nervous system causing tumors, usually benign, to form on nerve tissue). She presented with a severe thoracic kyphoscoliosis and advanced myelopathy. Her 3-dimensional CT scan and sagittal MRI show her severely angular midthoracic deformity with tenting and
MORE >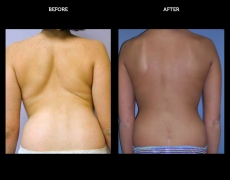 12+9-year-old female who had a severe L5 and S1 isthmic spondylolisthesis. This produced not only truncal imbalance but also back pain and neurologic issues to her legs. She underwent a posterior surgery to decompress her nerves, realign her slipped vertebra and fuse only one segment (L5/S1) of her spine. At
MORE >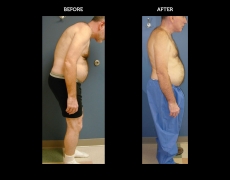 50+9-year-old male with ankylosing spondylitis and a fixed thoracic hyperkyphosis deformity. He was unable to look forward when standing, thus interfering with walking and other daily activities. He underwent a posterior spinal reconstruction with a lumbar pedicle subtraction osteotomy (PSO) to reshape his lumbar spine into more normal lordosis and thus allow
MORE >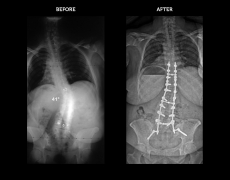 Patient presented with severe flat back syndrome and lumbar kyphosis with marked postural imbalance not allowing her to stand upright as well as severe lumbar back pain following several lumbar surgeries with decompressions and an attempted fusion. She underwent a posterior reconstruction with an L2 pedicle subtraction osteotomy (PSO). Following surgery
MORE >