← Back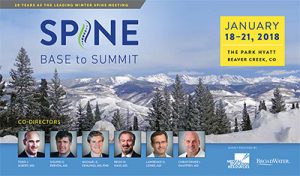 The Spine: Base to Summit meeting provided attendees with access to exceptional faculty and a quality educational experience. The meeting has built an exemplary reputation as being the # 1 winter meeting for over 28 years. Attendees continue to rank this spine meeting as being a "highlight" on their annual calendars. Highlights included:
Remarkable camaraderie with more than 100 surgeons and colleagues
A collegial atmosphere in which to enhance your spine surgery skills
The Spine: Base to Summit meeting aims to provide a more practical, interactive means of receiving continuing medical education than those of other major spine meetings. See full meeting brochure.